Look Better,
Feel Better, Live Better!
Jouvence Aesthetics and Wellness makes it possible!
Jouvence Aesthetics and Wellness helps you be your best self. Whether it's aesthetic services or wellness services, looking better, feeling better or functioning better, Jouvence Aesthetics is here for you.
Feel good walking in a room, take on the world, and we'll make sure nothing will stop you. We are a trusted clinic when it comes to Fat Transfer, Liposuction, and more.
Have a stubborn body part not responding to diet and exercise? Is a double chin bothering you? Jouvence Aesthetics has the solutions for you.
Suffering from knee, hip, shoulder or any other joint pain? Is urinary incontinence making you miss out on going places or erectile dysfunction keeping you from dating?
Our professional surgeon safely performs the procedure and allows you to live a life unencumbered.

Johnny Black
Went to see Doctor Steckman and from the initial interview I felt very comfortable even giving her a hug as I left. About 10 days later I had my procedure done. I was in and out in about 1 hour. Still in the healing process but I am very happy so far with the results. Going back for my follow up in about a month. Doctor Steckman is very professional but what I like the most she is very warm and caring.

Dee Kay
I did a liposuction on my double chin in late 2020. I want to say I can't thank the doctor enough! The procedure was PAIN FREE and the doctor was so nice and comforting. Dr. Steckman is very professional and caring. Post op I did not have insane swelling nor pain and MINIMAL BRUISING after the procedure. I had some swelling for like 3 days. I remember I had the lipo done on Friday, and I was at the club the next Friday with my new beautiful SINGLE CHIN!! I encourage everyone who is considering lipo to visit Dr. Steckman. She changed my life for the better. Best decision I've ever made. Dr. Steckman is very gifted!

Brandon Pretorius
The surgeon is very considerate and compassionate. She is very skilled in her work but overall it was a great experience receiving service from Dr Steckman. Would highly recommend her practice and it was genuinely a pleasure being under her care.

Valerie Forman
Dr. Steckman is a kind, caring, professional individual. My son has seen her several times now for multiple treatments. I came with him the first time because as a mother I was concerned but after meeting Dr. Steckman I knew my child was in good care and it put my mind and heart at ease. She's also a mother and understood my concerns but did such amazing work and would occasionally check in afterwards to make sure all was well. I would HIGHLY recommend Dr. Steckman and all of the services she offers. She has a beautiful soul and is very skilled in what she does.

MC Rodriguez
I have been wanting for many years get a lipo until I found Dr.Lodze Steckman, from the consultation and forward, she was professional and honest. I happened to work out and take care of my mind and body and I will suggest anyone to get results is to start with a professional provider such as Dr. Steckman. So, far my results are amazing at one moth of having the procedure, I am already working out and running... I couldn't be happier with the procedure but blessed that it was with Dr. Steckman, caring and gave me great advise.

Elizabeth C
My mom did her BBL at Jouvence Aesthetic and at first I was so afraid for her but my I love how my mom looks they make her feels.so welcome and comfortable Dr Steckman is very welcome she knows her job I must say she the best. You make a visit to her office you will not regret it. Thanks Dr and your staff she welcome. We. Love her and her staff. ❤️❤️
Dr. Steckman takes very good care of me like I was a family member. Going inside her office I felt so welcome. I was so nervous heading to her office but reaching inside her office I honestly don't know what happens but I love her, staff the same. Dr Steckmam listen to you she is just straight up she tells you the truth about which and what is important to do. Jouvence is the best place to see your results of your body. I can write a book on how greatful I am that I choose Jouvence. I highly recommend her she know her job she amazing. She one of the best doctors in NYC. Make some time give her a called and you will not regret it, trust my words. Coming from my heart she the best. Love her and her staff is great humble I just lilove them.
I had PRP injections for joint pain in my shoulder. Jouvence Aesthetics & Wellness was great. Injections went well. I was only in the office for 45 minutes each of the 3 times and my shoulder feels much better. I push a wheelchair and I'm able to move better than I have in years. They are caring and considerate. I highly recommend them!
I visited Jouvence Aesthetics twice and Dr. Steckman treated me with so much care. I was extremely insecure about my double-chin before my procedure and now I have no double-chin thanks to Dr. Steckmans amazing work. The procedure was painless and fast but also life changing for me. I would highly recommend Dr. Steckman for Chin-lipo and other Beauty services.
I had the pleasure of meeting Dr. Steckman and Monika during my procedure and they were true professionals. I had insecurities about my face which I simply avoided to address thinking the process would be overly complicated and time consuming. It was quite the opposite, Dr. Steckman and team worked through the preliminary process virtually and I was in and out after the procedure within an hour. Dr. Steckman made me feel very comfortable and now I am really looking forward to celebrating the results(which were honestly visible day one) during our follow up. Thank you Dr. Steckman and team!
Dr. Steckman's knowledge, professionalism and expertise are matched only by her great compassion and effervescent personality that makes you feel right at home. You will know immediately that you are in the best of hands at Jouvence. I can personally testify that I received top-notch care and I am extremely happy with the results. I highly recommend Dr. Steckman and Jouvence
20 years ago, I got ran over by you reckless driver for 2 blocks. I suffered with severe ankle pains ever since. I was thinking about having both my legs amputated and getting prosthesis just to stop the pain. This is when I came across the stem cell therapy research. Dr. Steckman was God sent. I started my 1st treatment and already I can feel the cushioning between the joint of my ankles. The procedure was nothing like what they showed on the YouTube video with scared me to death. I was in-and-out of her office within 45 minutes. Best decision I ever made for my life. If you suffer from joint pain,Iwould highly advise you to start your treatment with Dr.Steckman She is a wonderful and professional doctor that care about uour well being.
I was recommended by my son to have a 360 done I am well pleased by the job Dr. steckman performed. Not only she is inspirational Woman off God. Job well done Dr. I was able to go out within the next day if I wanted to. The place is located off grand central station east accessible
I felt in good hands with Dr Steckman..Her bedside manner is just delightful. Not just a Dr but a surgeon too. Beautiful clean office I highly recommend!
I had my procedure done on May 6th saw results 3 days after I had no pain whatsoever Dr steakmam is very honest and professional so are the staff I highly recommend her to anyone who wants to transform their body
I'm still in the healing phase 1 day out experiencing minimal pain but I'm pleased
Had a great experience here will come back
I have a very great experience at Jouvence, they was very patience with me I gave a lot of trouble. Every time I visit it's always pleasant. I love ❤️ my result , I would recommend anyone, the staff the doctor great. I will be back
The experience was great from start to finish. Very happy with the results. Currently scheduled to get another liposuction on a different area.
Excellent bedside manner and her staff is fabulous. Highly recommend. Love her work so much I'm back again to do more improvements on myself. She's incredibly awesome 👏
Everyone is so welcoming and friendly, nice and clean all my questions was answered overall great place.
I love it , looks amazing thank you Doctor STECKMAN
The best doctor in NYC, friendly, knows her stuff!!!!
The best doctor, very kind, affectionate and friendly that I have known, the best hands, thanks to her, my mom is beautiful 😍❤️❤️❤️❤️❤️
We are licensed and certified. Our goal is to make you look and feel better, be beautiful and healthy in the safety of a modern clinic. Unlike offices in which an assistant completes a training one day and preforms the procedure the next day, at Jouvence Aesthetics you are cared for by a certified and experienced surgeon who cares for your health and well-being as well.
Meet our Surgeon – set up an easy, private, online consultation.
Payment plans available. 
Hablamos español.
Nous parlons francais.
Real People - Real Results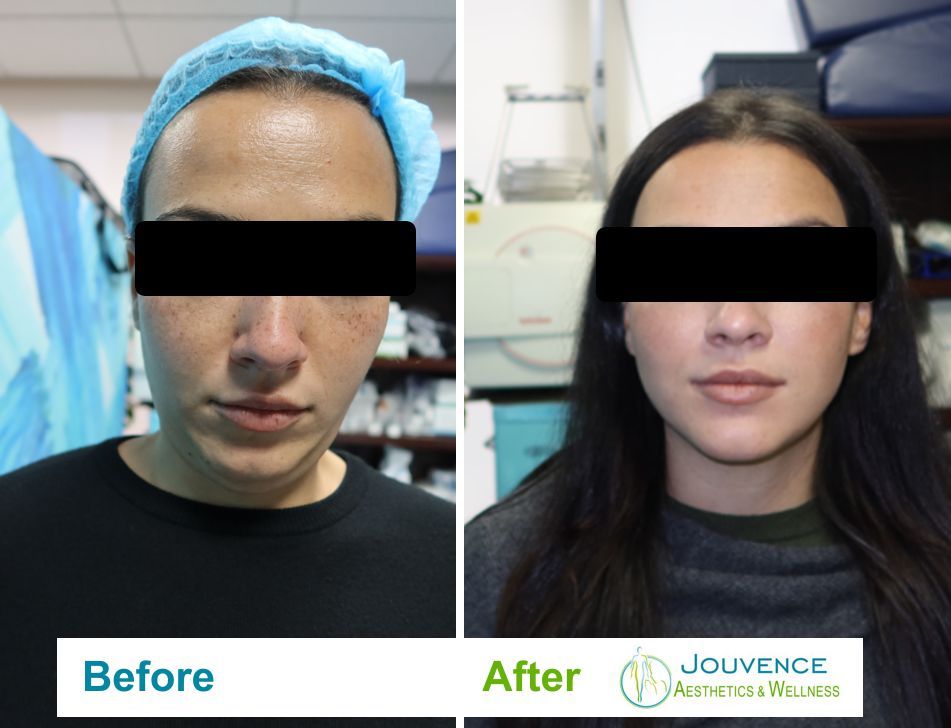 This patient received chin liposuction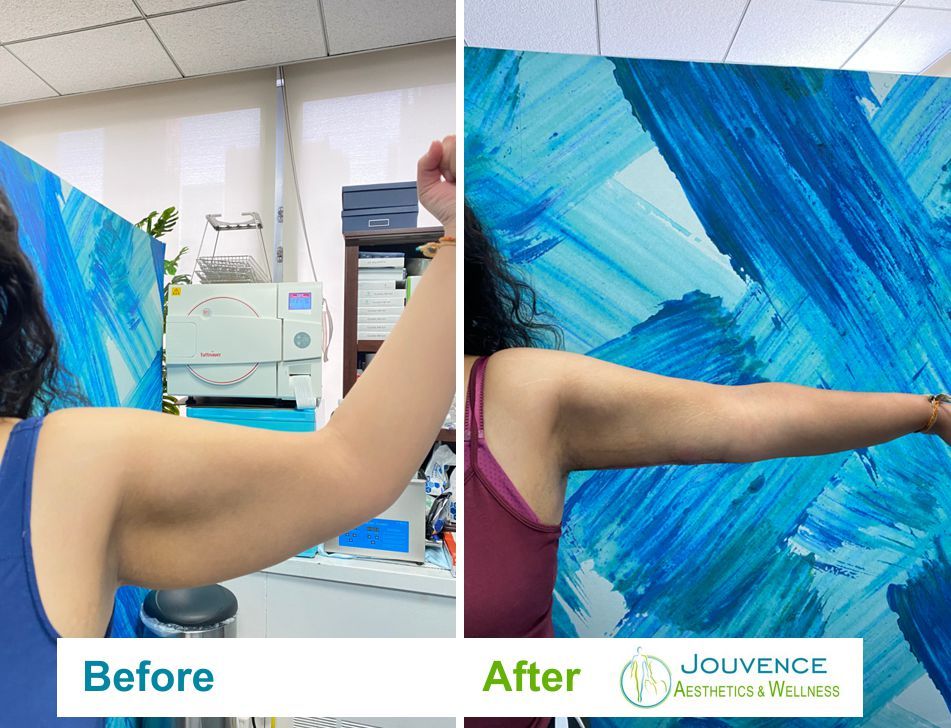 This patient received a liposuction procedure on her arms.
Botox
Filler
Hair Reduction
Hair Restoration
Hyperhydrosis (Excessive Sweating)
Laser Vein Removal
Liposuction
P-Shot
Scar Remodeling
Skin Firming
Skin Resurfacing
Skin Tightening
Spider Vein Treatment
Face Lift