Dr. Steckman signifies safety in the aesthetics industry, that's what a recent article in FIXNYC.org found. After all, she is a double board-certified general surgeon with special expertise in cardiothoracic and cosmetic surgery. Those who have her preform a lipo procedure have a surgeon who specializes in procedures of the heart, lungs, esophagus, and other organs in the chest as well. Clearly you can't be in better hands.
This matters as many want a procedure but are concerned about safety and don't have the necessary information.
The FIXNYC.org article describes Dr. Steckman's humble upbringing too. Did you know she was raised by a single mother in Haiti, the poorest country in the Western hemisphere, in a home with no running water? From an early age, she was told there were limited career paths for her, and education was the only means by which she could thrive.  So, she studied hard.
By age 30 she was Chief Surgeon at two major hospitals and the Chair of the HealthCare Reform Committee. She went on to serve as Coordinator for Disaster Relief for the Red Cross and Haiti's Commissioner of Disaster Management.
While her practice is Jouvence Aesthetics & Wellness, she routinely works the ER in various hospitals. The FIXNYC.org article began by describing a stabbing victim she saved:
"He had a single deep stab wound to the back of his chest," said Doctor Lodze Steckman describing a recent patient in the ER. "He was young, big, autistic and had been here before." This may be run-of-the-mill for a typical ER doctor, but Steckman is not the typical ER doctor.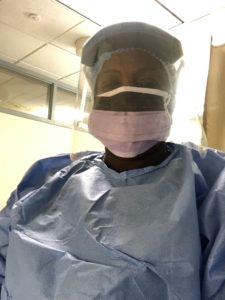 Successfully saving the man was no easy challenge as the article went on to describe. Along with catering to the needs of typical ER patients, Steckman was also on the frontlines of the Covid-19 healthcare crisis.  As the article points out:
"At the epicenter, while consoling scared patients, she and her staff concealed their own fear… Steckman remembered one man. He was terrified and alone as many covid patients were. His anxiety was making his symptoms worse. Steckman saw he was a religious man and offered to say a quick prayer with him. He calmed down, and she could care of his medical needs."
As the article shows, little acts of kindness pay off. The patient returned months later and fondly remembered Steckman going above and beyond to care for his emotional needs as well.
The important takeaway from the article is Steckman's dedication to the health and safety of her patients. It's not all about good looks, but good health too. After all, people should be healthy enough to enjoy a fulfilling life. This commitment had led her to expand into regenerative medicine as well. This includes plasma-rich platelet and stem-cell therapies. The article goes on to point out:
Many of the same components of a vampire facial, for example, are the same that help sore joints regenerate tissue and reduce pain. These plasma-rich platelets, or PRP, rejuvenate skin and arthritic joints, and make us look and feel younger. It's why her lipo patients often leave healthier than when they arrived.
So, whether you are considering a tummy tuck, chin lipo or a Brazilian Butt Lift, at Dr. Steckman's practice concerns about your safety and health should not be the reason's to do nothing. Dr. Steckman received advanced training in her specialties in France, Israel, and the U.S.  Making people feel beautiful goes together with keeping them healthy. Her motto, "Look Better, Feel Better, Live Better," says it all.
Make an appointment today to talk with Dr. Steckman. It's time to look better, feel better and live better.
Read the full article at: https://fixnyc.org/with-heart-and-body-in-mind/